The concept of Apprendre autrement will first target an adult clientele through its content. But since this journey to discover education is inspired by children from 0 to 12 years old, we wanted to make a place for them in our project and allow them, too, to discover the world while having fun. And that's where Nounoucorne will come in!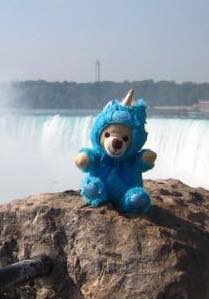 Nounoucorne is a half bear, half unicorn plush that has grown accustomed to accompanying us on our travels. Even when we try to leave it at home, we always end up finding it somewhere in our luggage! He loves having his photos taken during his adventures and discoveries and he has kindly agreed to keep an Instagram account https://www.instagram.com/nounoucorne/ throughout our journey, and even at the opportunity to collaborate on our blog. His only condition: to address children, not adults 🙂 Do not hesitate to follow him on Instagram! Although by the time of our official departure he will not be as active, he will get to work immediately. Indeed, from next week, he will start his adventures in New York for the New Year, then he will follow us during each meeting and small trips related to the project that we will do before our departure!
A few times a week, he will publish photos of him on Instagram and allow children to learn a little more about a monument, an event, a city, a country, the games that fascinate children here and there, etc.
A few times a month, he will storm our blog to address the children and tell them about the country we are visiting, it's discoveries and it's adventures. Sometimes he will tell them a traditional story that he will have learned, other times, he will teach them a few words of a new language or introduce them to a child he has met and who will agree to speak about his country and its customs. with him, etc. He may even, on occasion, answer questions put to him by his readers.
And since he likes to have fun, he will hide somewhere in each of the videos that we will publish on our YouTube channel. Will you be able to find it ?
We leave you on some photos of Nounoucorne taken in the last months and we take this opportunity to wish you very happy holidays and a new year filled with happiness, health and beautiful projects! We will be back on January 5th and we will start the year by telling you about the countries on our list and how we chose them!
See you soon!
Geneviève and David
Meet Nounoucorne at Niagara Falls, Cherries, CN Tower in Toronto and Cebit in Hannover, Germany.