Hello friends,
For the past week, I have been in Edinburgh, the capital of Scotland. It is a superb city of 482,000 inhabitants divided into 2 parts. The first is Old Town, which was built in medieval times. It is so well preserved that I have the impression that I will come across knights and dragons on every street corner. It really feels like another time. The second part is called New Town, or the new city, even if it is not that new anymore since it was built in the 1700s when it became necessary to enlarge the city. And you know what? It was an architect who was only 22 years old, James Craig, who drew up the plans, and they were so loved that his style influenced all the architects of Europe for several years thereafter. Edinburgh is such an exceptional city that it has been declared a UNESCO World Heritage Site, which means that the whole world is working to save it so that future generations can also enjoy it. Do you want to see some photos? Here are some!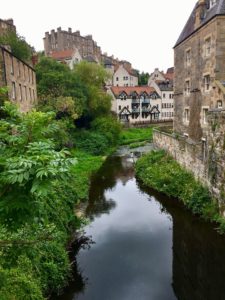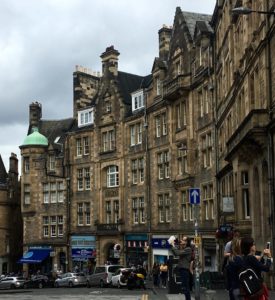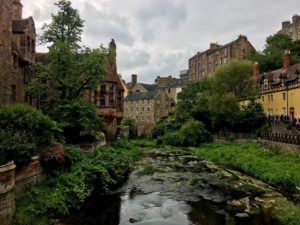 The castle
In Edinburgh, the most famous monument, which is also the most visited in Scotland, is Edinburgh Castle. It was built on a hill called Castle Hill and there is only one way to get to the castle because the other three facades of the hill are very steep cliffs. And do you know what? This hill is part of a grouping of three hills which forms an ancient volcano! Yes, yes, a real volcano! The castle began to be built in the 12th century by King David 1st, but the hill was inhabited long before that. Archaeologists have found evidence that there were people who lived there over 1800 years ago, in the Iron Age! The kings lived there until 1633 and then the castle was used by the army to defend the city. Today, it is a large museum which contains, among other things, the crown jewels composed of a crown, a ceremonial sword and a spectrum in perfect condition and which are considered to be among the oldest treasures of Christianity. Look at the castle! It is really very beautiful, don't you think?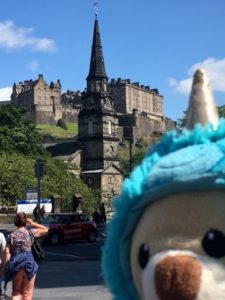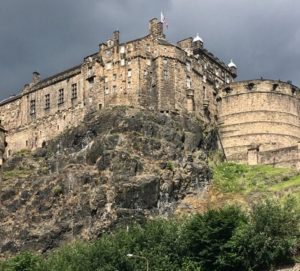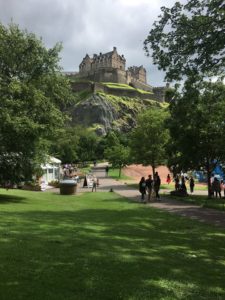 If one day you come to Edinburgh, don't be afraid if you hear a cannon shot at 1 p.m. It's normal here. It is an old tradition which is over 150 years old and which lets people know that it is exactly 1:00 pm to be able to synchronize their watch!
Arthur's seat
Arthur's seat, is another of the three hills that make up Edinburgh's extinct volcano. It is considered to be the highest peak in the city. It is 251 meters high and you have to walk for 1.5 km to reach the summit! From the top of the hill you can see the whole city of Edinburgh, the castle, the North Sea and even the villages around the city. You have to be in good shape to get on it, but it's really beautiful! Along the way, there are the ruins of an old chapel, the St-Anthony chapel which is still a mystery today. It is unclear when, or by whom it was built. All we know is that it was destroyed in the 1500s during the Reformation. I show you?
Arthur's seat seen from below: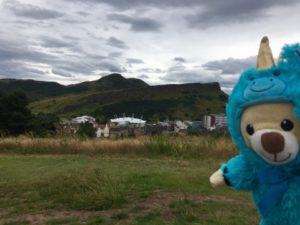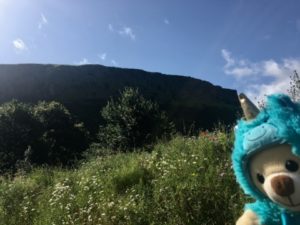 The ruins of St-Anthony chapel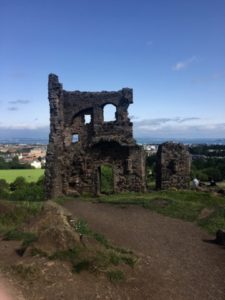 A short break halfway up the summit: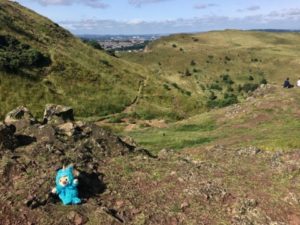 We have reached the summit! I'm with my friend David in the photo! He had to hold me well so that I wouldn't fly away, it was so windy up there!
And here is the view! It's beautiful isn't it?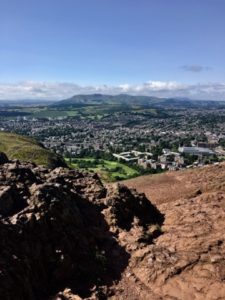 Do you know why the hill is called Arthur's seat? It's because of the legend of King Arthur. You know, the one who was brought up by the enchanting Merlin and who managed to remove the Excalibur sword from a huge rock when men much stronger than him had not succeeded, proving that he was the real king? Well, the city where Arthur lived was called, according to legend, Camelot; and here, it is said that this city was built on and around Arthur's seat. That's why they gave it this name!
Bobby's story
Here in Edinburgh, one of the most important symbols of the city, it is a small dog of breed Skye terrier, which was called Bobby. This little dog was adopted in 1856 by a man named John Gray, who worked as a night porter for the Edinburgh police. For 2 years they were inseparable, but unfortunately in February 1858 John died of tuberculosis, a disease many people died of at the time, and he was buried in Greyfriars Kirkyard cemetery. Bobby then settled on his grave and remained there until the end of his life, that is for 14 years. At first, the cemetery keeper tried to keep Bobby from staying there, but since he came back all the time, he ended up taking pity on him and built a doghouse for him and made sure he always had enough to eat and drink. He even became his greatest friend. Even in the greatest storms, Bobby never spent a night outside his master's grave until his death in 1872. He was then buried right next to the cemetery gate, as close to John. Even today, when you visit the cemetery, you can see Bobby's grave on which people place wooden sticks since Bobby loved to play with sticks, and his master, John Gray, falls. And in the street, just in front of the cemetery, is a Bobby status. Each year, hundreds of thousands of people come to see her and rub her nose because it seems, it brings good luck. It's a pretty story, isn't it? Here are some photos:
Bobby's status: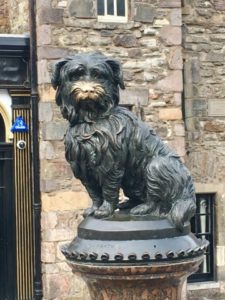 Bobby's grave, with wooden sticks and that of his master John Gray: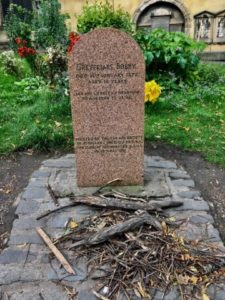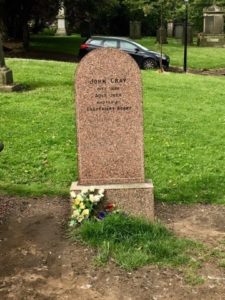 And finally, me, rubbing Bobby's nose! You never know, maybe I'll become very, very lucky!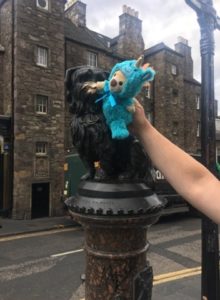 I had something to tell you today, huh? If you want to discover more about Edinburgh and my travels, you can go to my Instagram page where I present my discoveries to you three times a week: @nounoucorne. Now, I leave you because I have to go and prepare my suitcase, I'm leaving today for my next destination: Glasgow! I'll talk to you about it next week if you want!
See you soon,
Nounoucorne xxx