Hello friends,
Last week, I told you I was going to tell you about Glasgow. But ultimately, my plans changed. I decided to spend only 2 days in Glasgow (if you want to discover this city, you can go to my Instagram page @nounoucorne) and rather go explore the Highlands in Scotland. I think that when you read this article, you will understand why I changed my course! There was so much to discover in the Highlands! Come on, I'll take you with me! You're ready? Let's go!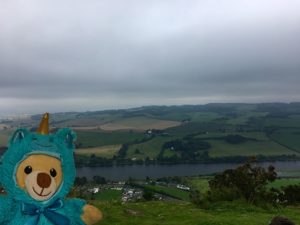 Highlands, the region located in the North West of Scotland, is covered with hills and mountains whose several peaks exceed 1000 meters above sea level. I really felt very small among all these mountains! The highest is called Ben Nevis, and if you ever come to Scotland, you can go climb it if you feel like it. I did not have time to do it since it is an excursion which takes about 8 hours! But the landscape at the top must be magnificent! Here it rains almost every day and it is never very hot. Even in summer, the temperature very rarely exceeds 20 degrees Celsius. So always have a sweater, raincoat or umbrella with you. But it adds a lot of magic to the landscapes because there are always clouds and mist everywhere. Look, here are some pictures of the mountains, it's beautiful isn't it?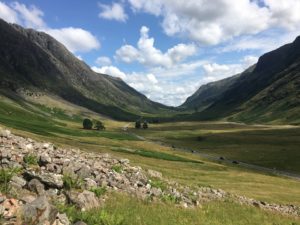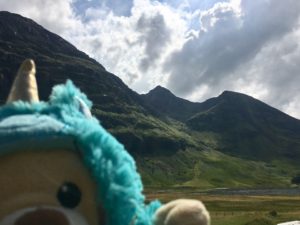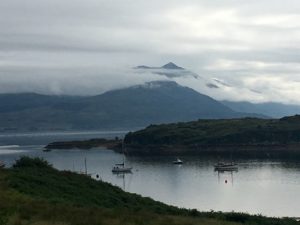 Not so long ago, in the Highlands, people did not speak English like elsewhere in Scotland or Great Britain. Their language was Gaelic. Today, a large part of the inhabitants of the region speak English which is the official language, but there's still exist, isolated villages, where one speaks only Gaelic and everywhere on the roads, the signs display the names of cities in both languages. When we speak with the people of the Highlands, there are often words that we don't understand and that we have to ask them to explain to us because they still use a lot of Gaelic words, even when they speak English. It is really very interesting to hear. If one day you come to Scotland, you can even buy yourself an Asterix comic in Gaelic if you feel like it! Looked!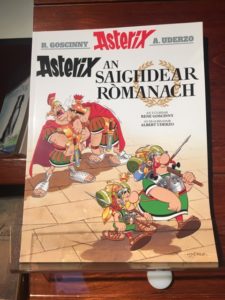 Thousands of castles!
There are castles all over Scotland, but in the Highlands it's even more spectacular. Often when you walk on a road that you think is deserted, you turn a corner and suddenly there is a castle that appears as if by magic. At one time, more than 3000 castles of all kinds were in Scotland. Today, a large part of them are still there, but they are no longer all in good condition. Some have been restored and now serve as museums that you can visit, others are still inhabited by the descendants of those who built them, but several are in ruins and there is only a tower or a wall left to bear witness to their presence there. I took advantage of my visit to the Highlands to see some of them. Do you want to see pictures?
First here is Cawdor, a castle in very good condition that we can visit today.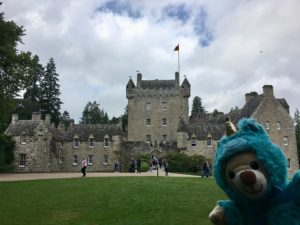 Here is the remaining tower of Perth Castle.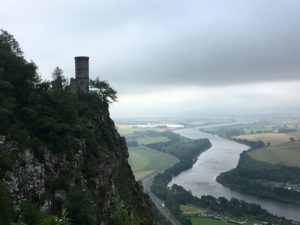 Here is the ruins of Redcastle.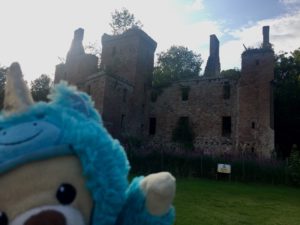 And finally, here are the ruins of a very famous castle here, that tons of people come to visit each year, the Urquhart Castle which is located on the edge of Loch Ness.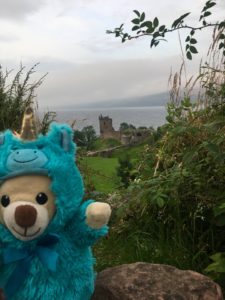 Loch Ness
Scotland, and particularly the Highlands, is known for being a land of mysteries, magic, tales and legends. The best known around the world is undoubtedly that of Loch Ness and its monster named Nessie. Perhaps you have already heard of it? Loch Ness is a huge lake located southwest of the Highland capital, Inverness, and is over 22 miles long. In some places, the lake is more than 230 meters deep. The fact that it is so large and so deep makes the experts far from knowing all the species that live there and it is this mystery that allows so many people to believe that Nessie is real.
Nessie is often described as resembling a very large sea serpent or even a plesiosaur, and its legend has existed for several hundred years. Indeed, in the year 565, Saint Colomba, an Irish monk, recounted having saved a man from the clutches of the Loch Ness monster who attacked him by invoking the power of God. But, the modern history of Nessie, as we know it today, dates from 1933-1934 when a series of events occurred that made people think that Nessie really existed. The most famous being a photo published on April 21, 1934 in the Daily Mail, which caused a sensation because we can clearly see the shape of a plesiosaur. Its author Robert Kenneth Wilson admitted several years later that it was a toy and not the real monster, but many people still believe that he said that to prevent people from leaving. looking for the monster or because someone forced him to do it. Very serious studies have been done in the lake to try to find Nessie, one is also underway at the moment and will, within a few years, have traces of DNA from all animals living or having already lived in Loch Ness for several hundred, even thousands of years. Despite this, there is still no evidence of Nessie's presence. But each year, the lake attracts hundreds of thousands of visitors who hope to see it! Do you believe this monster? In any case, I did not see him during my visit!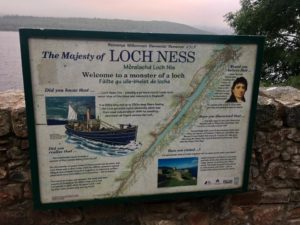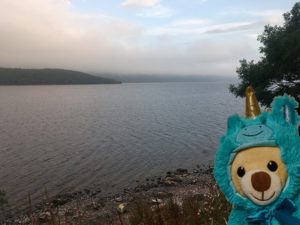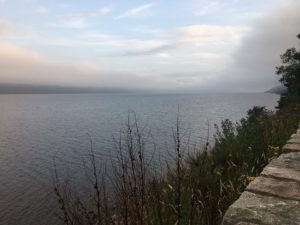 I leave you on some other photos from my trip to the Highlands! Me, I pack my bags and I go to discover the city of Manchester in England! We'll talk about it next week okay?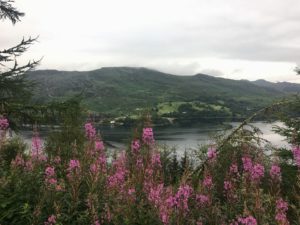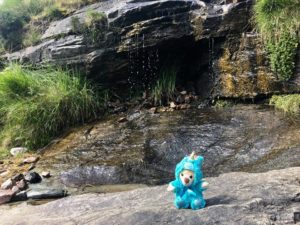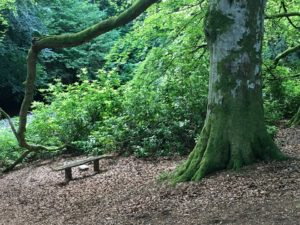 See you soon,
Your friend,
Nounoucorne