Hello friends!
I just spent the last week in Manchester, the 3rd largest city in England with its 545,000 inhabitants. Manchester is an industrial city which has mainly developed around the textile industry, mainly fabrics made of cotton. Even at one time, people nicknamed the city "Cottonopolis", so there were fabrics produced here and that in several countries and languages, the word Manchester is used to speak of objects made of linen or cotton like sheets or towels.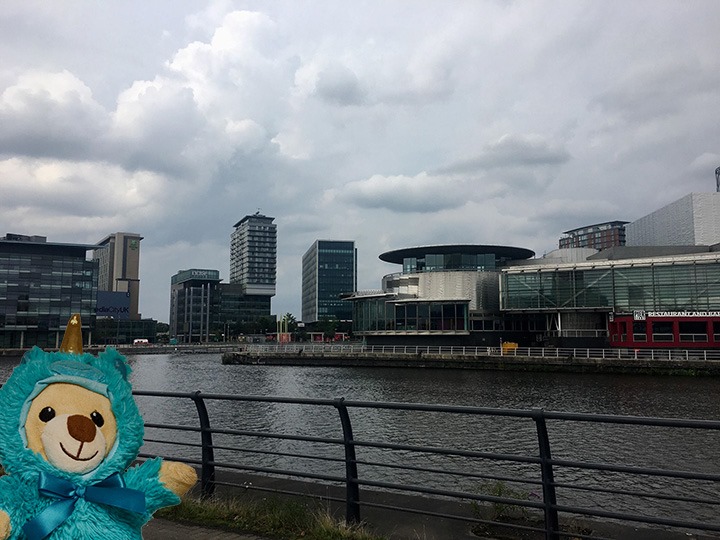 In 1835, Manchester was the most industrial city in the world! This explains why a large number of inventions have been made here. Some are still used today mainly in trains or in factories that manufacture fabrics. The museum not to be missed if you ever come here is also the Museum of Science and Industry which allows you to discover, often in an interactive way (it is a great museum for children), the different inventions and machines . It is here that you will be able to see the first railway station that I presented to you on Instagram this week, but also, the complete reproduction of a 19th century fabric factory. You can even try out some of the machines yourself if you want. Look, it looks like that!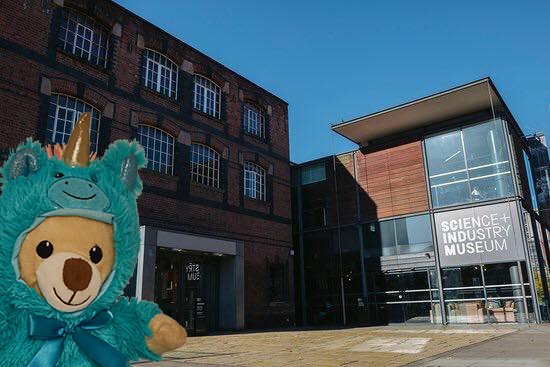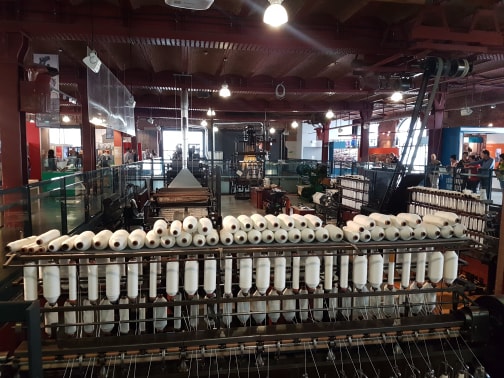 Asterix oops … Manchester and the Romans
Did you know that for five centuries, the Roman Empire had invaded almost all of Europe, but also northern Africa? It was at this time that Manchester, which was called Mamucium. It was only a very small Roman fort, where a large maximum of 2000 people lived and whose main objective was to monitor the road between York and Chester, but that's how the city was born in 79 of our era. The Romans lived in this fort, it was developed as a small village which provided soldiers with food and entertainment, until 410. Then, the site was abandoned. During the Middle Ages, the city had only 4,000 inhabitants and they lived around the fort which they did not use at all. They called this place Castle in the Field which could translate to "castle in the field" because that was really where it was hi! hi! Then, when industrialization made the population grow at a crazy speed (in less than 100 years, it went from 80,000 to 1.5 million inhabitants phew!), A large part of the ruins of this fort were destroyed to allow the construction of houses and apartment blocks. This new neighborhood was then called Castlefield to refer to the old name. Fortunately, part of these ruins have not been destroyed and efforts have been made to restore them in part. So you can discover them by walking in the neighborhood. Look, it's me in front of the most complete part of the ruins. It makes a big contrast to the ultra modern glass building behind it doesn't it? Well, that gives you an idea of ​​what Manchester looks like. In the same street, it is possible to see constructions from 4 or 5 completely different eras. It seems like we travel back in time with every step!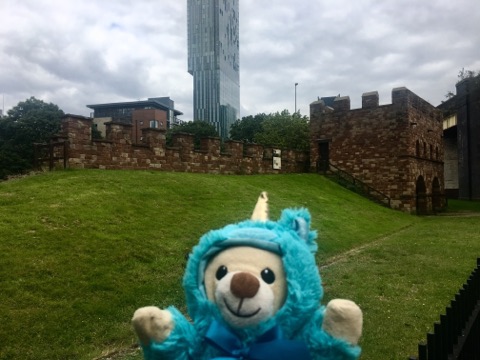 And that is the Castlefield district which is a district built along a series of canals which were used to transport goods to the factories! Today, several houseboats are installed in these canals. Would you like to live in a boat yourself? In any case, I would like to try for a few days! Maybe I will have the chance to do it by the end of my trip.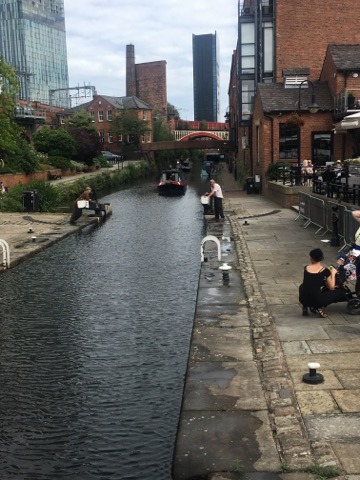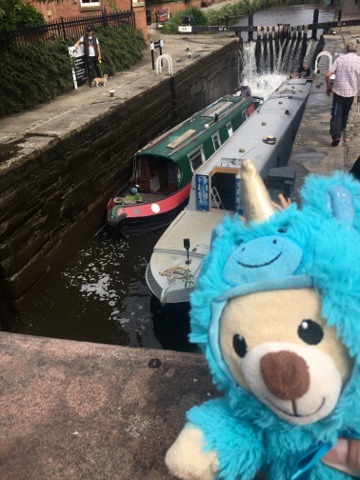 Manchester City Hall
Speaking of architecture, the monument of which Manchester is the most proud is its town hall which is considered to be one of the most beautiful in the world. It is in neo-Gothic style (this is the name given to buildings of this style built from the 18th century), and it took 9 years to build it, from 1868 to 1877. The tower of the he clock contains 24 bells, the largest of which weighs 8 tonnes. Needless to say, when it strikes the hour, you can hear it everywhere in the city! Little funny information: the biggest bell with a name. It is called Great Abel since the name of the mayor at the time was Abel Heywood. As in Quebec, a person who is called a bell is a bit stupid, I am not sure that I would like someone to give my name to a big bell hi! hi! And you, what do you think? Here's what town hall looks like. It is said that the interior is also splendid, but it is undergoing renovations at the moment. So I will have to come back in 2024 to find out!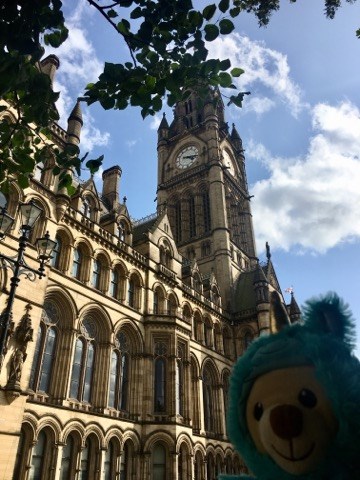 Victoria Bath's
Finally, I want you to discover a building which is unusual to say the least, located in Manchester. As you may know, we haven't had running water in our homes for that long. Even there are still places, in the world, and even in Quebec, where people do not have them. So people would wash up and wash their clothes in the lakes and rivers or go, when he had the chance to get the water they needed, well. In 1906, Manchester therefore acquired something that was considered extraordinary at the time: a " Water palace ", literally, a water tower. This place included private baths for washing, a place for washing, a Turkish bath (a steam bath) and 3 swimming pools for swimming. In winter, as it was impossible to use the swimming pools since the water was too cold, they covered the top of the largest with a floor and the place was transformed into a ballroom. This building has been used for 87 years and today, a big fundraising campaign is taking place to try to restore it. Here's what it looks like: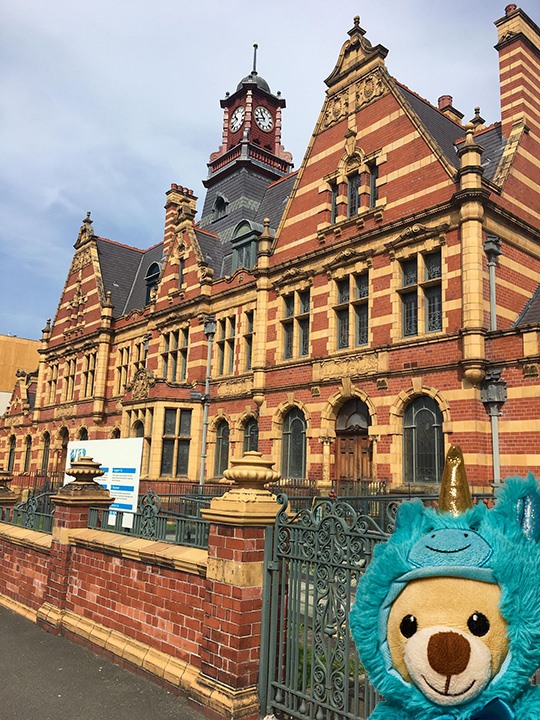 But this is where it gets really unusual. As I told you, there were 3 pools in this building. Do you know why? Because at the time, not only men and women could not use the same pool, but in addition, men were divided into two classes: the richest and the poorest. I know it was like that back then, but I really don't like this part of the story. Do you imagine dividing people by categories and taking away rights from people because they are not of the right sex or do not have enough money? And in addition, these baths could only be used by whites because people of another color were considered impure! At this level, I'm really happy to live in our time, don't you? And in addition, there is not even a bath for pffff teddy bears!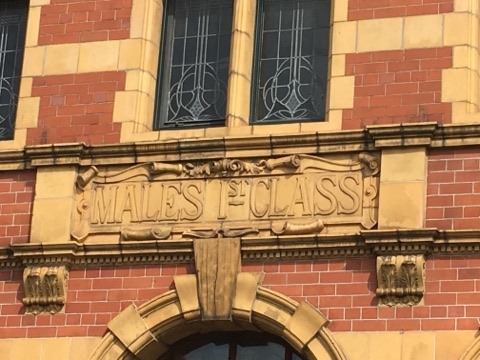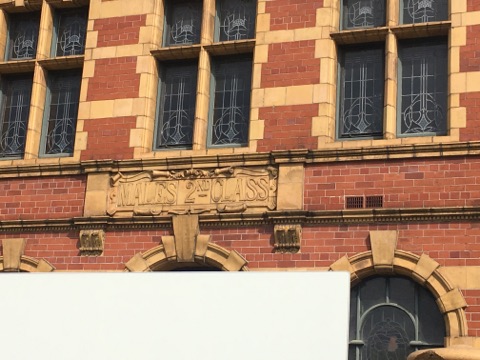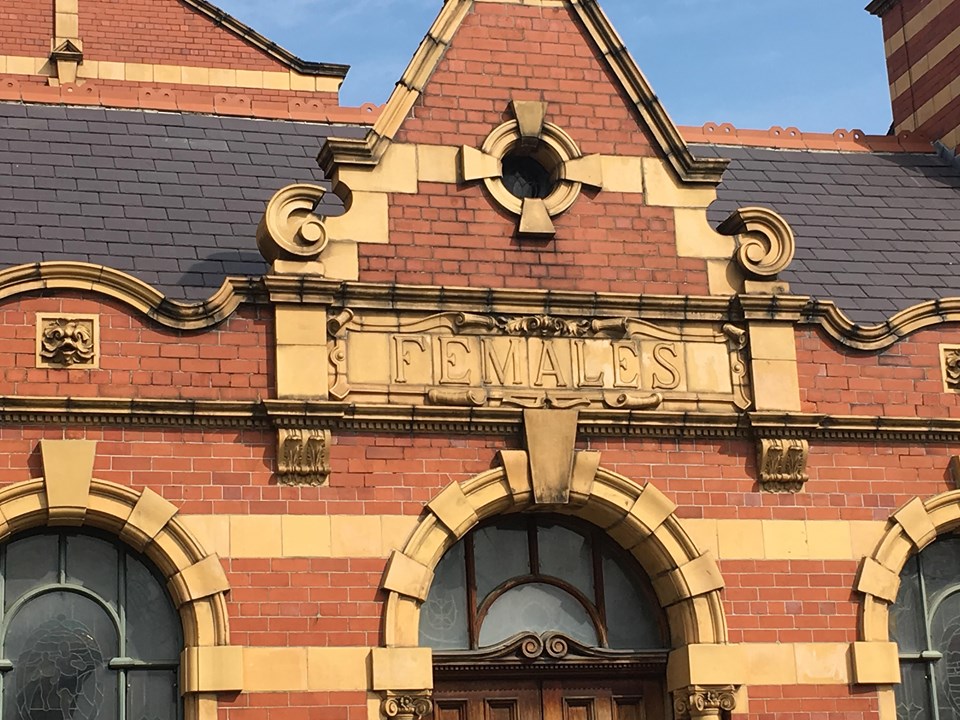 Well I'm leaving you! David and Gen are waiting for me to go discover Liverpool where we have just arrived. Follow me on Instagram this week to discover the city with me and take the opportunity to subscribe to participate in my contest!
See you next week!
Nounoucorne