Hi, it's David!
You seem to have liked my article on my culinary trip to Thailand, so I suggest another one this week. A culinary trance in a magical and zen place, the small island of Bali in Indonesia. The recipes can be found at the end of the article.
Being alone to go to this course, I took a wonderful mode of transport, the scooter which literally has nothing to do with those of Quebec except the look. Here scooter drivers are kings. Not cars, not trucks but scooters. So pack up, I'm coming!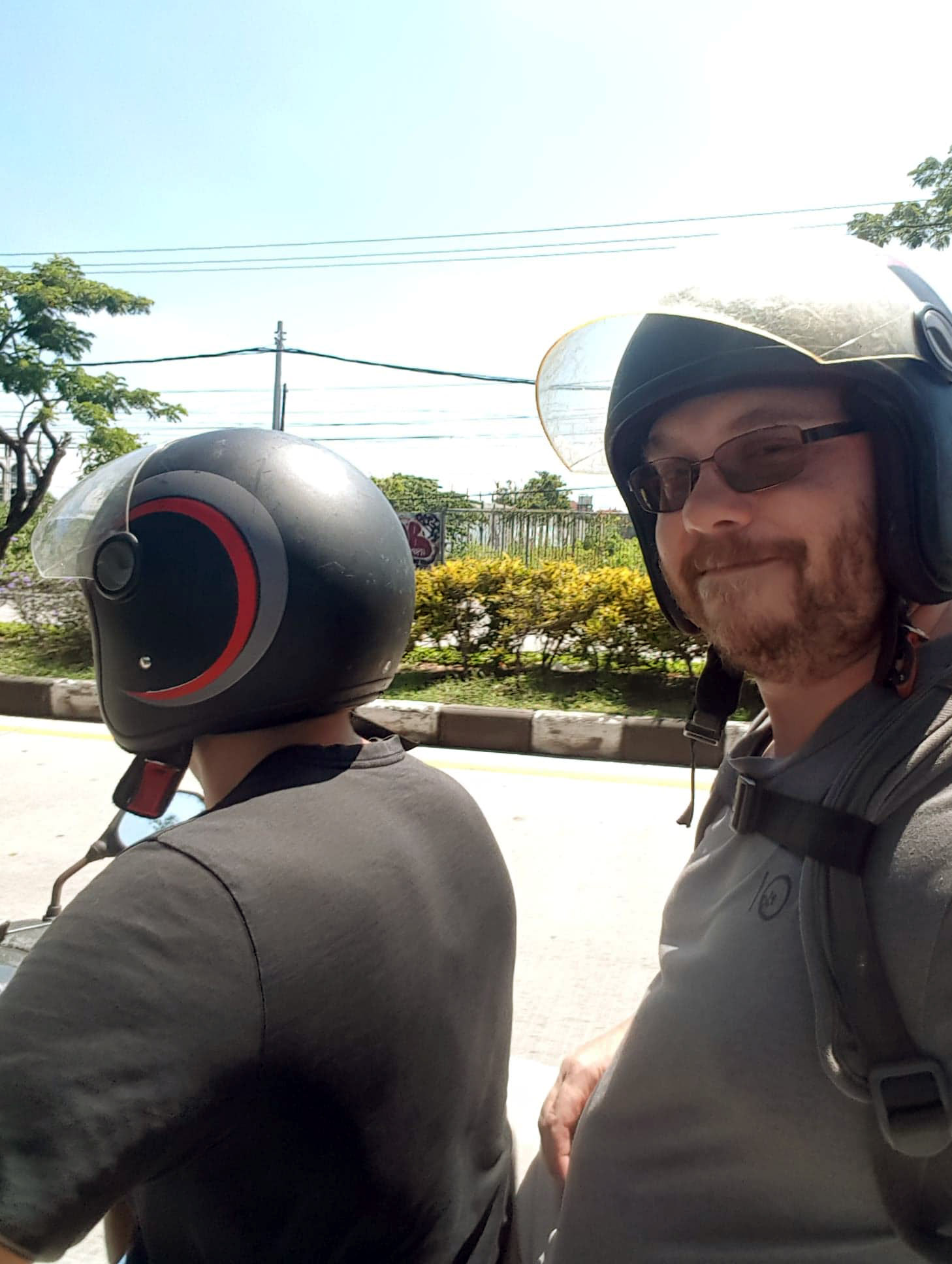 25 minutes later, my arrival in the magnificent world of my hosts. Wallless kitchen and living room with lovely pool. Counter with the preparations for our 7 dishes, everything to whet my appetite (well ok I don't need much to whet my appetite hehehehe). Then discussion with our chef and her husband accompanied by an authentic Balinese coffee prepared by an Italian. Impossible to refuse. Then my last 3 companions arrive and the course begins.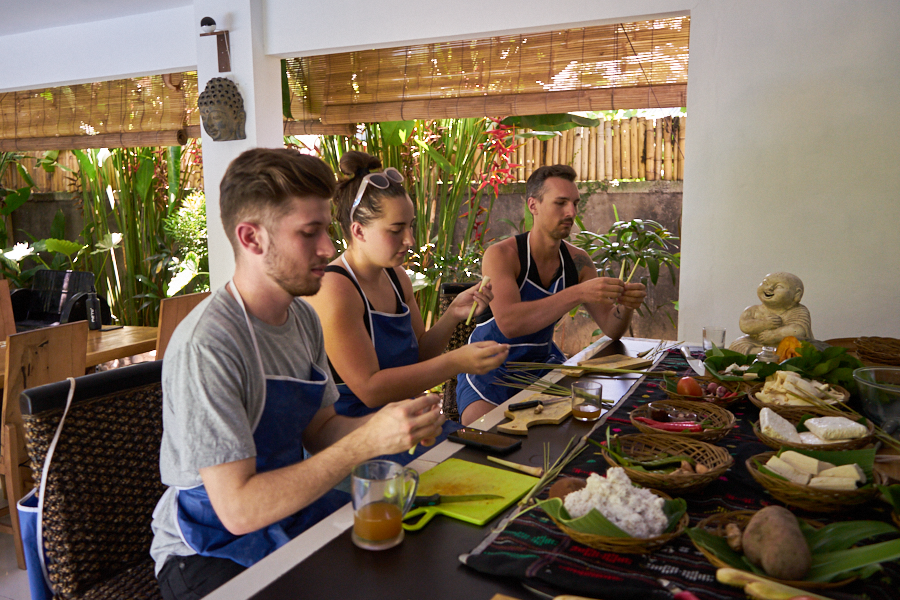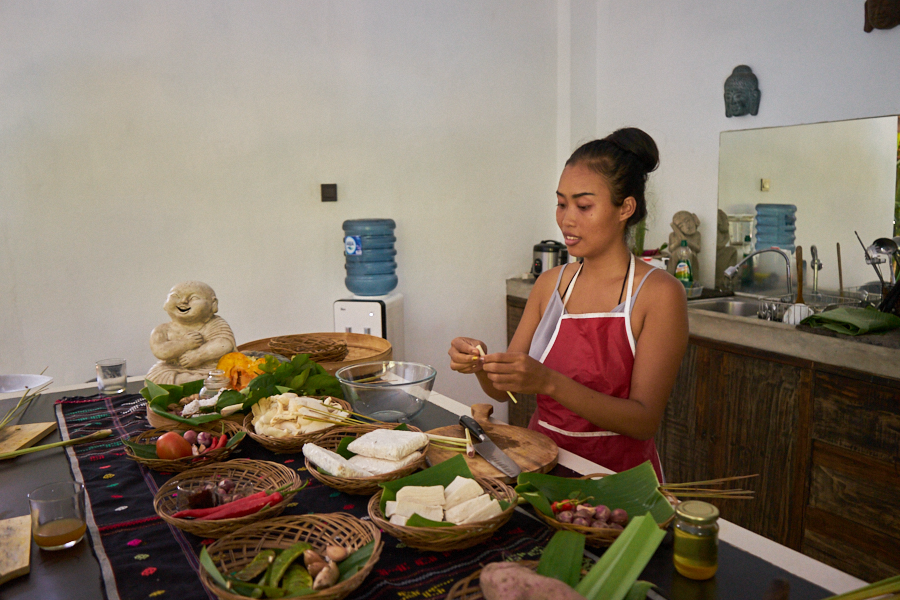 We start with my culinary favorite on the island, the Sambal Matha. Recipe so simple but WoW. Heat hot coconut oil very hot without burning it and pour it into a bowl containing lemongrass, French shallot, chillies, garlic and salt. Poushhhhhhh everything bubbles in the bowl and the magic potion is created. Don't forget the little touch of lime to create the little green cloud as seen in the comics (ok, maybe not, but in my head it's cool ok).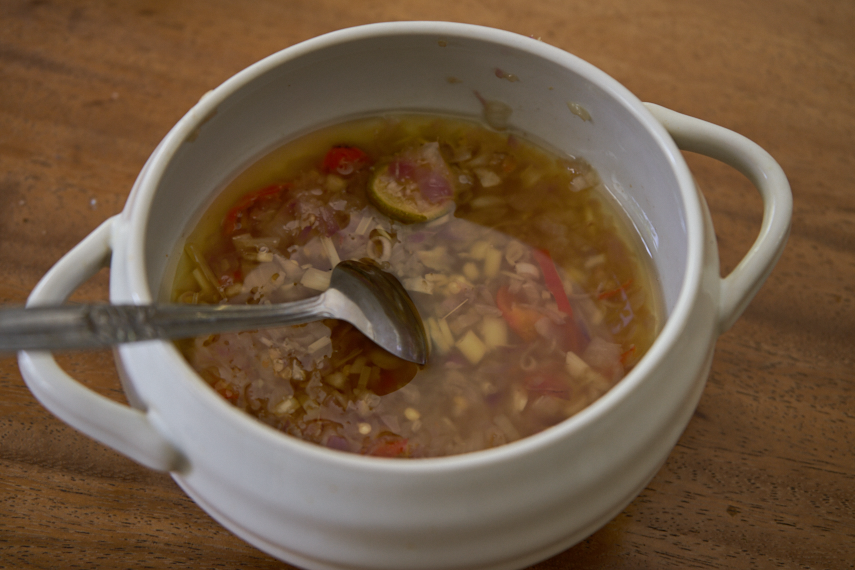 We then continue with a Tumis Jamur (Sautéed Mushrooms), a recipe that makes you love mushrooms if you haven't already. Then comes the Gulai Labu Kuning (yellow pumpkin curry) with its handmade coconut cream (I saliva, that's good).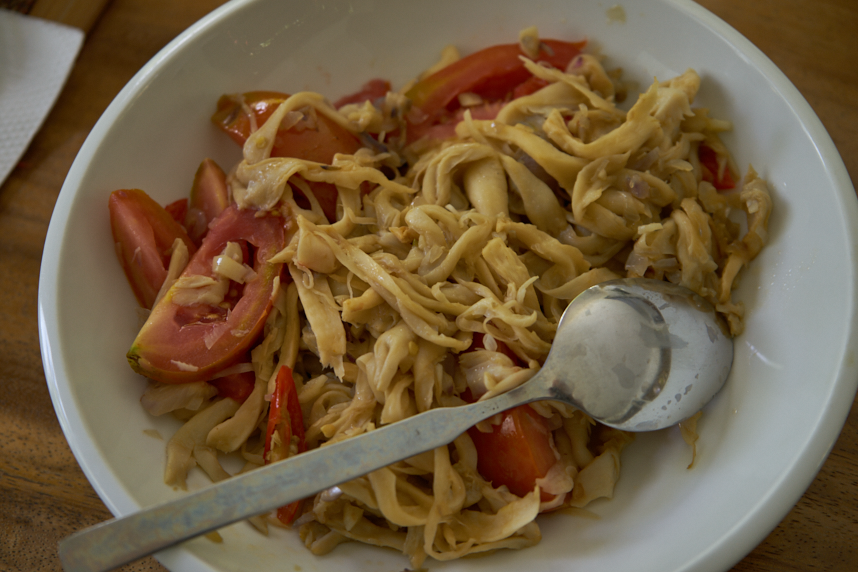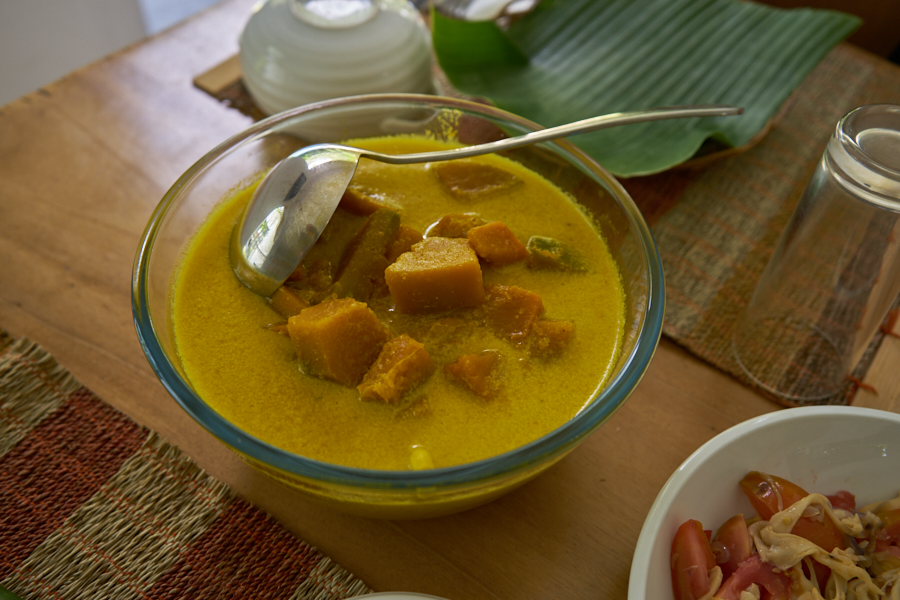 Now go heat oil to fry tempeh which will then be mixed with a sweet and sour sauce that has delighted more than one. Then come the Tahu Pete Saus Tiram (Petai tofu with vegan oyster sauce). Pete is a big bean which after being ingested makes sure that the output of your fluids will not smell good hehehehehe.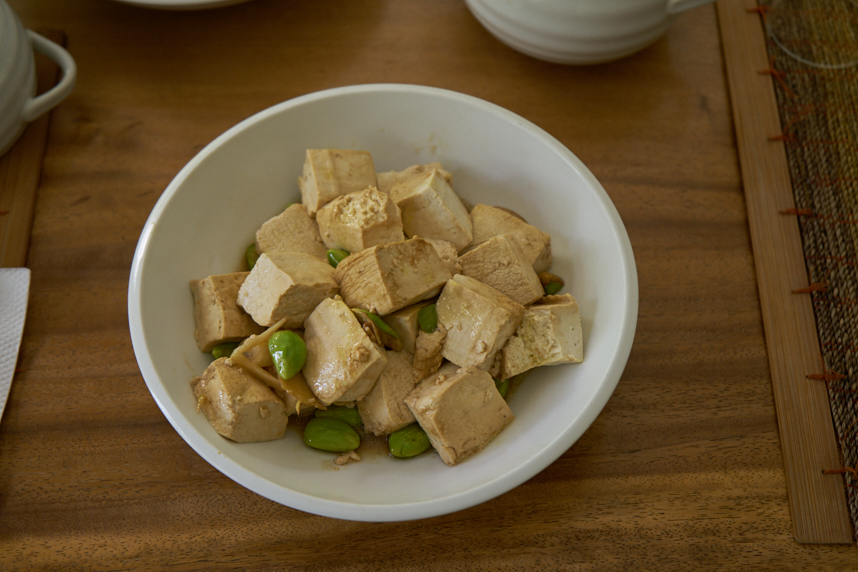 And finally, Sambal Sere (Lemongrass chili sauce). This simple recipe makes you a wonderful ketchup but with flavor. It can be traditionally done with pestle and mortar or with a food processor. And above all, we must not forget the essential accompaniment to any Asian dish: rice (steamer version with corn).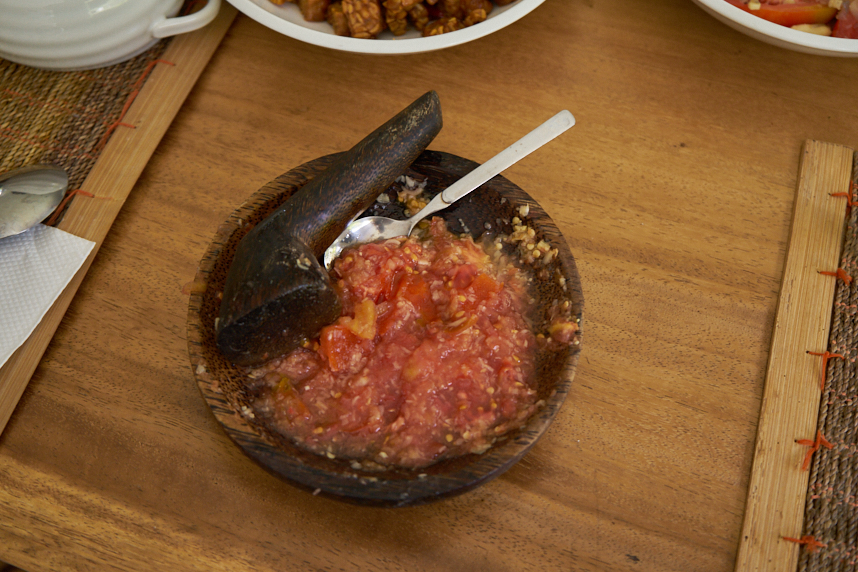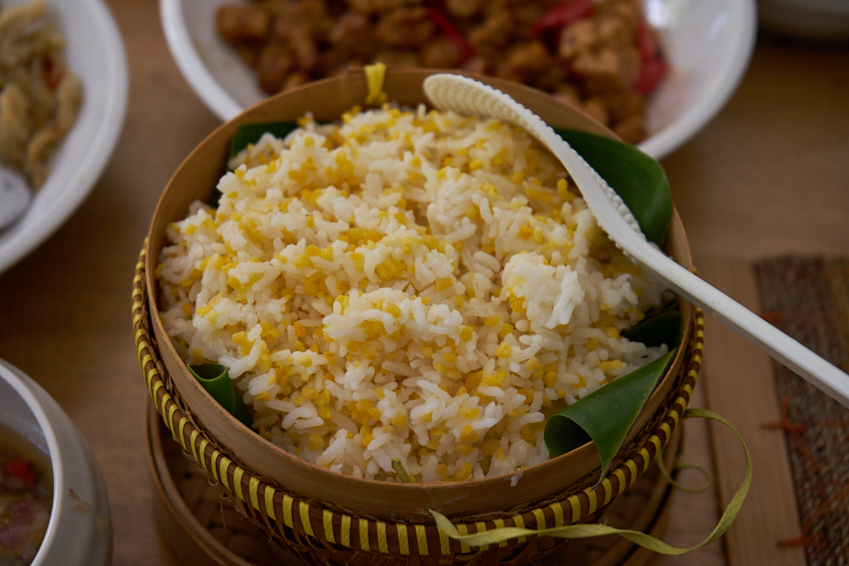 Once finished and without a cut, it's feast time. YES SIRRRRRRRRRRRR! Come on, everyone at the table. It was another magical moment with two Australians and an Austrian. And little cherry on top of all that, another good coffee from our friend Frederico. Then come back home. (P.S.: To understand why people wear pants and a jacket when they are on a scooter even at 35 degrees, think that the sun gives you a big kiss that lasts 25 minutes. Result in a solar hicky).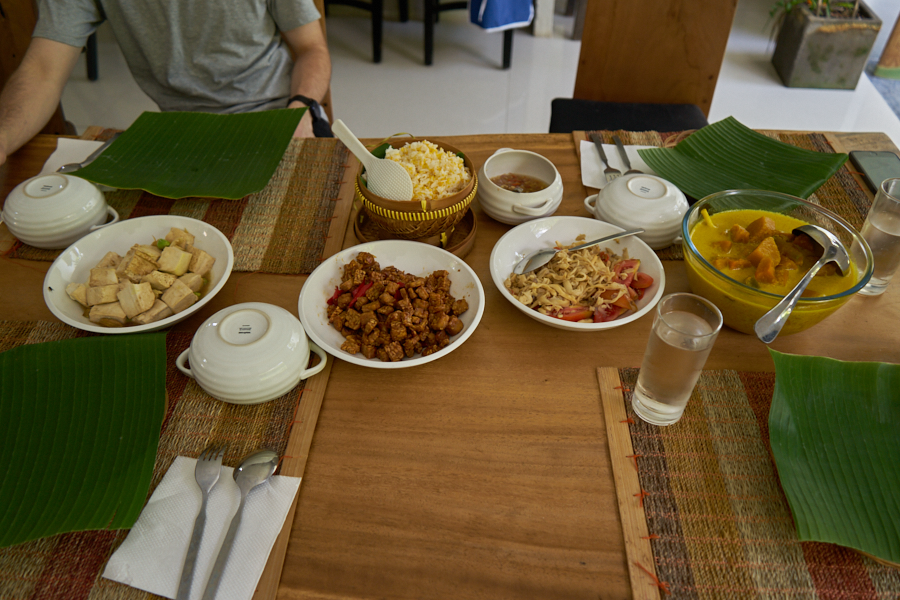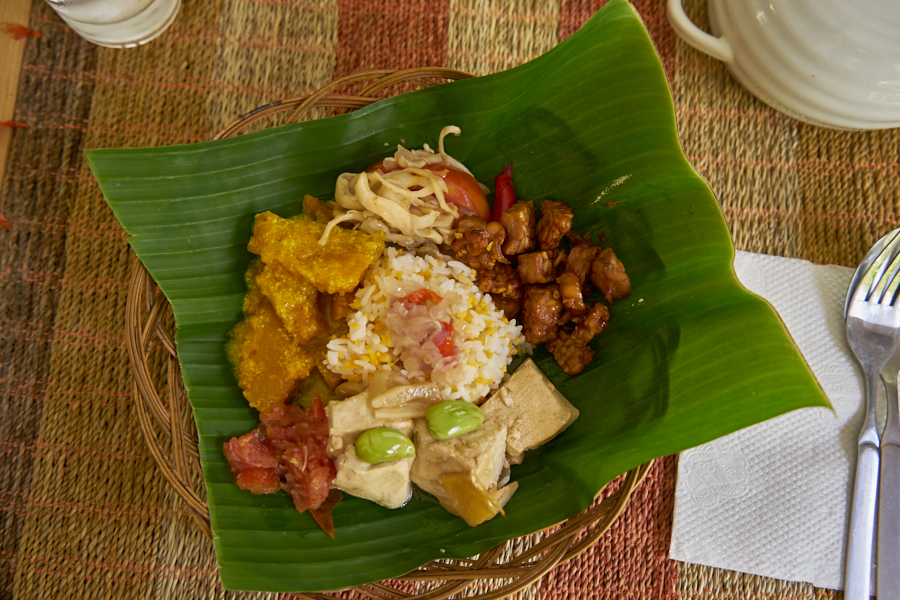 Again, when you are traveling, do not hesitate to take a cooking workshop with the locals. It's enriching and you meet lots of new people, which brings up discussions on so many different subjects (except the weather, it's shit everywhere).
With that, have a nice day and great food!
Link to the Airbnb experience
https://www.airbnb.com/experiences/378644
Recettes
Gulai labu Kuning – Yellow pumpkin curry
Mix everything in a frying pan and sauté for 2 minutes
2 tbsp vegetable oil soup
1 kg green squash
2 lemon grass stick
3 cloves of garlic
3 French shallots
1 tsp coriander seed
2 cm ginger
2 cm fresh cumin
Add the next 2 ingredients and simmer 10 to 20 minutes or until the squash is cooked but still firm
5 bay leaves
600 ml coconut milk
Tumis Jamur –Fried oyster mushrooms
Brown the ingredients for 2 minutes.
2 tbsp vegetable oil soup
3 cloves of garlic
3 French shallots
2 small red chili
1 Italian tomato
Add the mushrooms and cook for 5 minutes
3 handfuls of oyster mushrooms
Tahu Pete Saus Tiram – Tofu with petais and oyster sauce
Simmer for 5 to 7 minutes
1 tbsp vegetable oil
500 grams of tofu
5 garlic cloves
1 cm ginger
1 C. oyster mushrooms
2 petais pods (can be replaced with 2 broccoli stalks)
A little water to create heat and heat everything
1 tbsp oyster sauce or mushroom sauce (vegan version)
Tempe recipes/ tempeh asam manis
Fry the tempeh in the oil until it is a nice golden color
500 grams of tempeh in small cubes
Mix everything and bring to a boil. Then add the tempeh
3 small red chili
7 French shallots
5 garlic cloves
1 tbsp fresh tamarind soup
2 tbsp sweet soy sauce
salt
Sambal sere – Lemongrass chili sauce
Grind everything together without cooking
4 lemongrass stalks
2 Italian tomatoes
1 clove of garlic
1 small red chili
salt
Sambal Matah – Chili matah sauce
Put ingredients in a bowl resistant to rapid heat change
6 lemongrass stalks
2 or 3 French shallots
2 kefir leaves (or a little bit of lime)
1 clove of garlic
1 or 2 small red chili
Salt
Heat the very hot coconut oil and pour it over the other ingredients
½ cup coconut oil
See you soon,
David