The Airbnb platform is well known for renting accommodation all over the world. It is also our main means of accommodation since we are on the road. But maybe you didn't know, since November 2016, it is also possible to book on the site, experiences prepared by local hosts. From a day of hiking in the mountains or the forest surrounding the city of your choice, to cooking or local craft lessons, visiting a neighborhood or a tour of the bars most frequented by locals accompanied by an enthusiast, Airbnb is proud to offer "more than conventional tours or courses by offering travelers a total immersion in the unique universe of a host". Enough to attract the attention of travelers who want nothing better than to meet people in the countries they pass through and truly immerse themselves in the local culture, far from the beaten track of traditional tours. But what are these experiences worth? Are they fulfilling their promises? We have tested three in the past few months! Here's what we thought!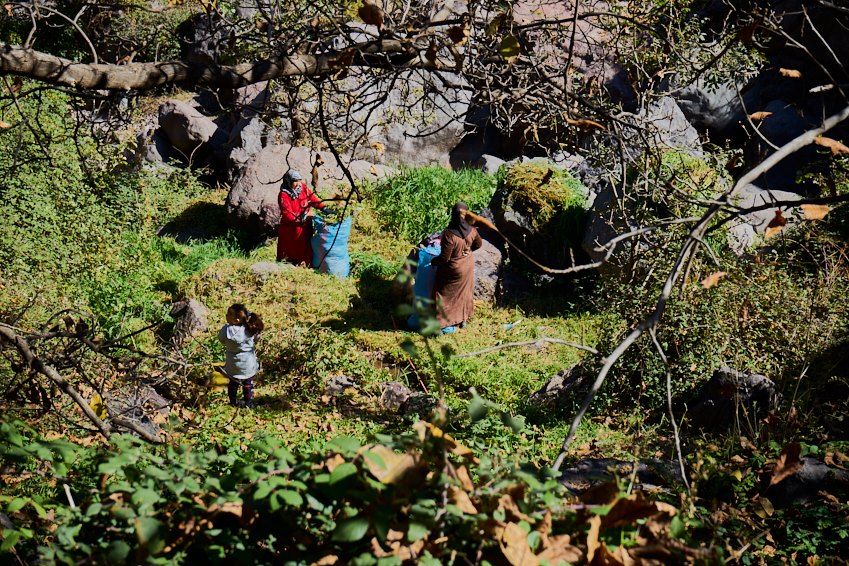 Paris, France,  Escape Game in Montmartre
Host: Églantine  Price: starting at 34$ per person  Time: 2 hours                                  Link: https://www.airbnb.fr/experiences/1043642
On September 10, David turned 40. I had brought one of his best friends to Paris to celebrate the event and my goal was to plan a surprise day that would be out of the ordinary and that would really please him. It was at this point that I turned, for the first time, to Airbnb experiences, and that I found my happiness. An experience that could not be more original, which in addition was completely in the tastes of my lover who adore board games, role-playing games and escape room … an Escape Game in Montmartre, one of our favorite places in Paris .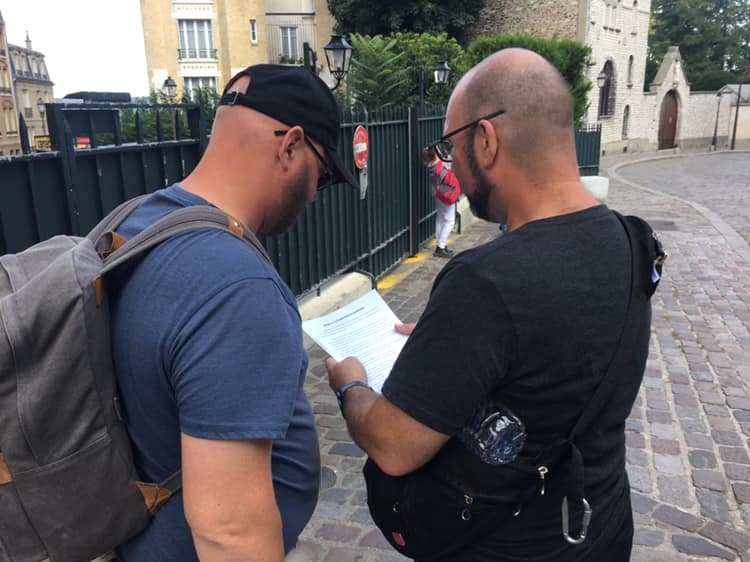 The concept? Participants have 2 hours to find their way and complete the 14 stages of the quest to crack the code and avoid being walled up forever on the hill. Well, there would still be worse as fate, but we will still try to avoid eh? To find the answers to the puzzles, you have to move to emblematic places of the hill of Montmartre, more or less known. Each answer will give one of the letters of the code and will allow the following clue to be received from the hands of the game master. If you manage to find the answer before the time runs out, you win a small gift, in our case, a bottle of wine.
Let's be honest, I'm really not a fan of board games and like. But David and Dany are, and after all, it was David's day, so I hastened to reserve three places, telling myself that at worst, it only lasted two hours. Well, what was my surprise when, once there, I realized that I really enjoyed the activity. This original way of mixing the history of this corner of Paris with a quest game really pleased me and I derived as much pleasure from it as my two acolytes, in addition to learning a lot about Montmartre. In addition, Églantine is a caring person, always ready to answer your questions about the neighborhood or Paris. It was a most enjoyable experience and we plan to participate in another of these Escape Games during a next visit to the City of Lights!
Little more, the route has been designed to be accessible to all. It starts at the top of the funicular and the different puzzles are resolved by going down the hill. In addition, the end of the route is near a metro station, and several cafes and restaurants that allow you to stretch the pleasure. A word of advice, bring a bottle of water. Since Montmartre is very touristy, they sell for gold prices.
Marrakesh, Morocco, Atlas Mountains, day trip and camel trek
Host: Jamal  Price: starting at 23$ per person Time: 8 hours                                        Link: https://www.airbnb.fr/experiences/523329
Some hosts have chosen to make their experience offers on Airbnb their main source of income and therefore manage the experiences they offer as a tourism business. This is the case of Jamal, who grew up in the Berber community of the High Atlas mountains, a few kilometers from Marrakech. The experiences it offers are therefore much more of a traditional tourist experience than it would be possible to live with any travel agency than a truly original tour, but a few points were still interesting. . First the absolutely unbeatable price which included the meal, water, snacks, Moroccan tea, transport and activities. The fact that we dine with a Berber family rather than in a restaurant, and finally, the interest of making this visit with someone who really grew up in this environment rather than a guide who learned a text by heart.
The day's program is very busy! Maybe even a little too much, not allowing us to really enjoy the discoveries we make and the magnificent landscapes we cross. But the effort is put in order to allow us to see as much as possible in a day and to live a complete experience.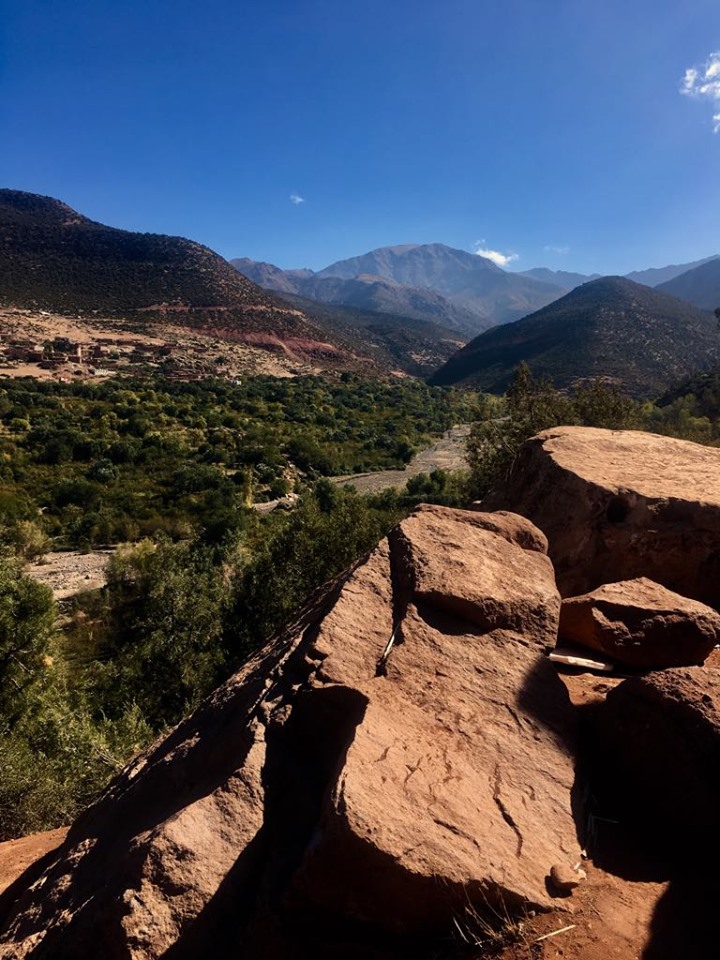 Departure is at 9am from a hotel in the center of Marrakesh. First surprise, it was not Jamal who greeted us, but a bus driver who spoke only English and Arabic (which was a problem for some of the people who accompanied us and who had chosen this tour precisely because it was in French). Jamal will join us later today. However, the minibus is new and very comfortable. Once all installed, we took the road towards the mountains. Our first stop of the day will be about twenty minutes later, in the middle of nowhere, in a field filled with stones where there are some dromedaries chained one or the other, and a tent where we will be put on the habit " traditional " of the Tuaregs. For me, this part of the day will be difficult. Impossible to refuse to climb on these dromedaries, but to see a baby barely a few weeks old running after his mother who carried David on his back in order to suckle, and to see these poor dromedaries walking in a field full of stones which hurt them obviously the legs under the watchful eye of guards who saw them much more as a source of income than as living beings disgusted me. If you really want to ride a dromedary, go to the desert. They are much more respectful of their animals and their welfare than these tourist traps near major Moroccan cities.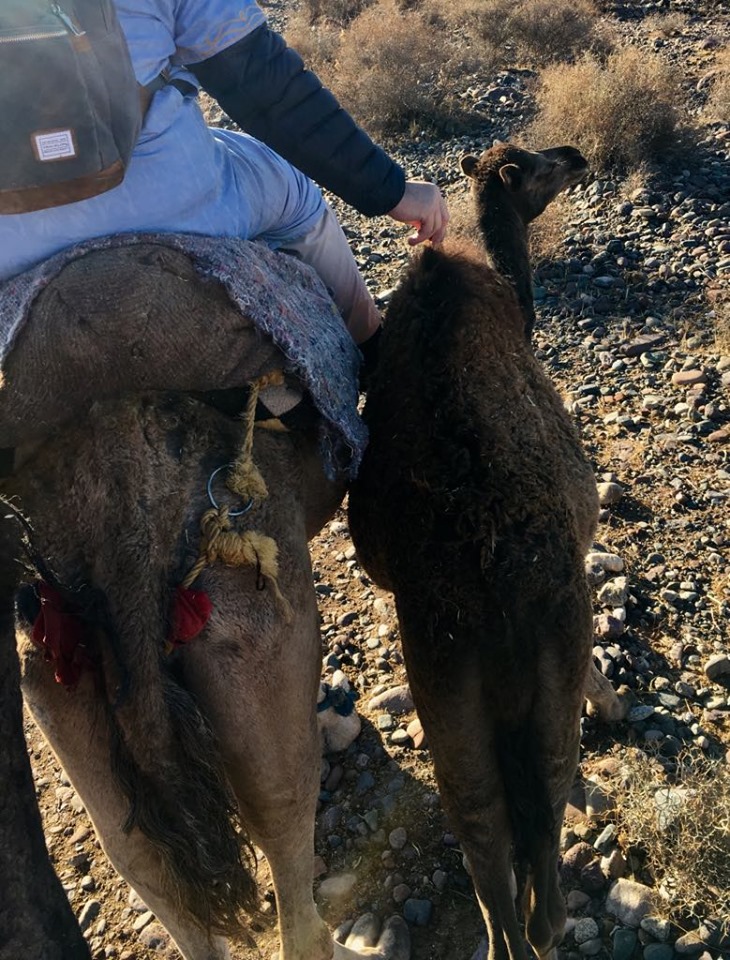 After about twenty minutes of camel ride, we are back on the bus. At this point, I admit that I was really wondering what I was doing there. Fortunately, the rest of the day was going to be better. Second stop, an argan oil cooperative managed by a group of women, near Tahnaout, a traditional Berber village. Here, we are offered to taste their products, accompanied by homemade bread and Moroccan tea and we were taught more about the stages of processing the nut, which is done entirely by hand. One of the ladies even offered David and me the opportunity to try out the tools. A short experience but which will allow us to see how difficult it is. And note, although we are presented with the products, no pressure is put on us to buy. A breath of fresh air in the Moroccan reality in which we are immersed since our arrival.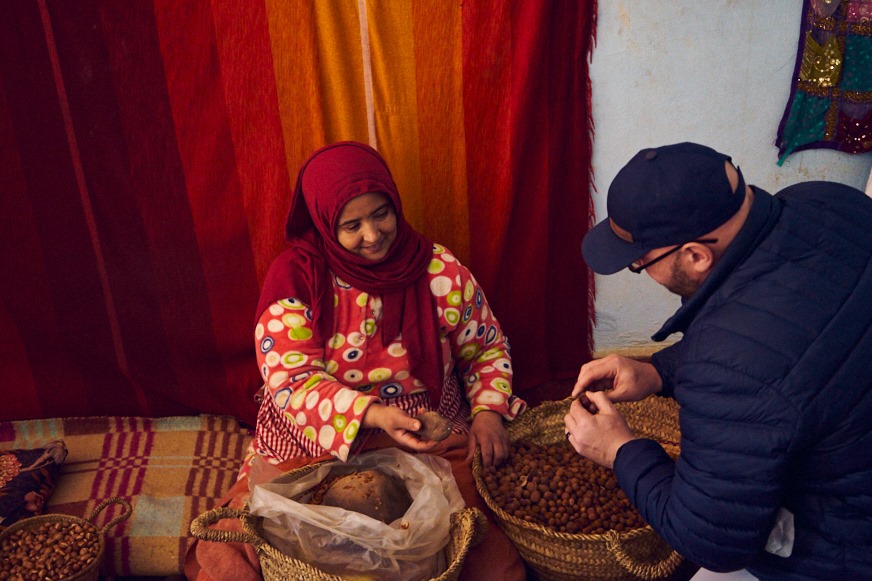 Then return to the bus to go to Asni, a small mountain town where we will finally join Jamal who will give us a quick tour of the souk and the Berber market which takes place every Saturday. It fascinated me to see how lively these markets were, filled with colors and varied goods, and to watch merchants compete in originality in order to attract customers. All this at ephemeral kiosks that would disappear the same evening until the following week.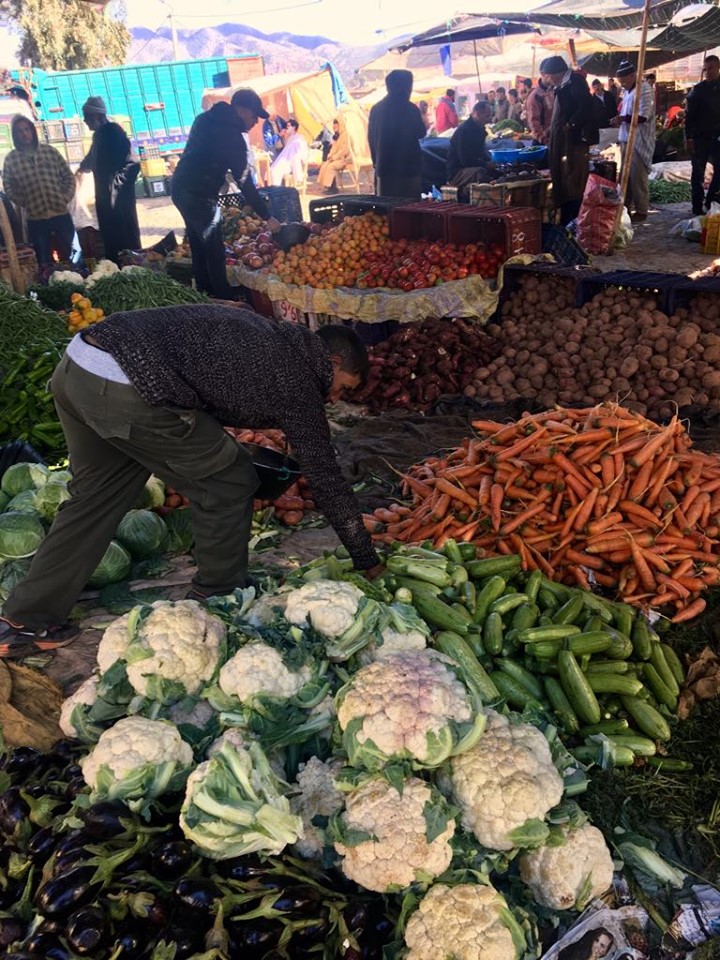 Then once again, back to the bus where Jamal distributes the local clementines he just bought for us. This time, direction Imlil, one of the largest and highest villages in the mountain range which has the highest peak in North Africa, the Toubkal. In the village, we are given bottles of water and we are invited to go hiking to discover a waterfall and to go to the small hamlets located in the heights. Although absolutely beautiful, this hike is definitely not for everyone! Climbing in narrow and slippery paths along vertiginous ravines for more than an hour, let's say that your cardio and your vertigo will be put to the test, all the participants will confirm it. However, here it is not an effort. It is the only way to reach certain villages between them so it is part of their daily life. This is why it is not indicated in the description of the activity. But I assure you that for the Canadians and Europeans that we were, it was quite another thing! But the sight and the discoveries we made there were well worth it. And, good news for those who, like me, suffer from vertigo, we take a path used by cars to descend. It is therefore much wider and much easier to access!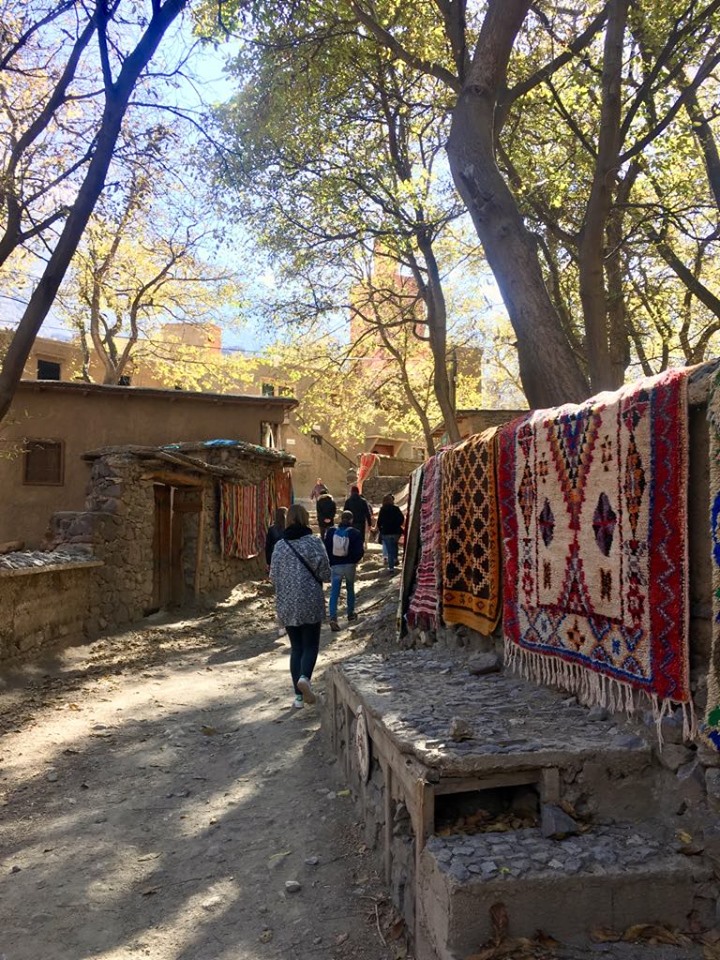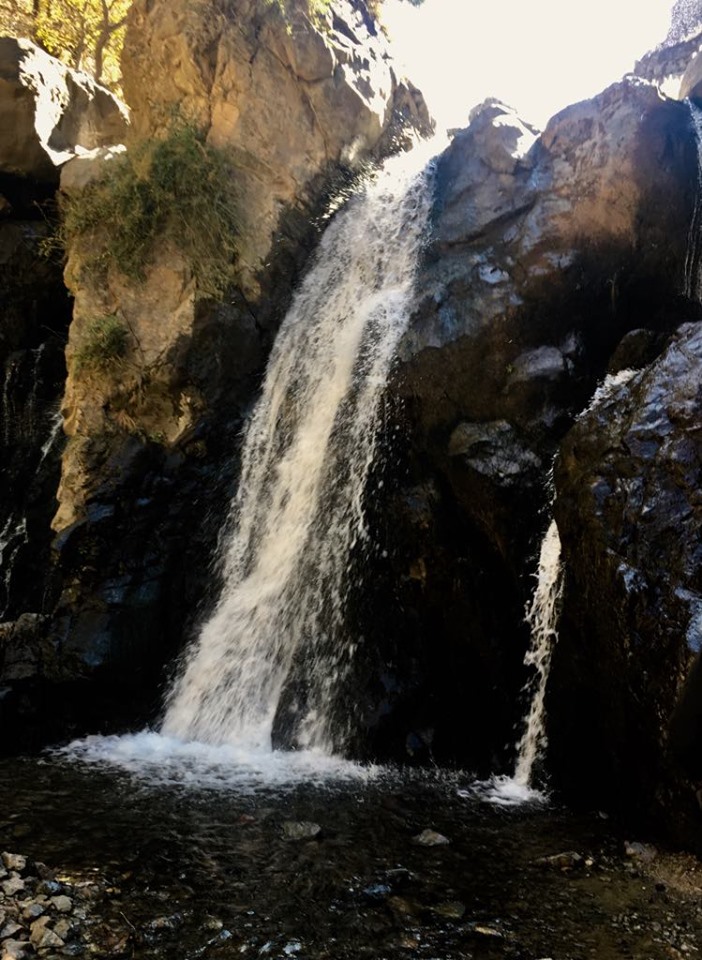 At the end of the route, in the village of Aït Souka, the Jamal family awaited us with a traditional meal served in their huge family lounge. On the menu, tagine, homemade bread, salads, olives, fruit, Moroccan cakes and tea. They even were kind enough to prepare a vegan salad for me, even knowing that I had brought my meal and that it was not on the menu.
Once this late meal was over (it was still almost 3pm when we arrived), it was time to return to Marrakech and close the day.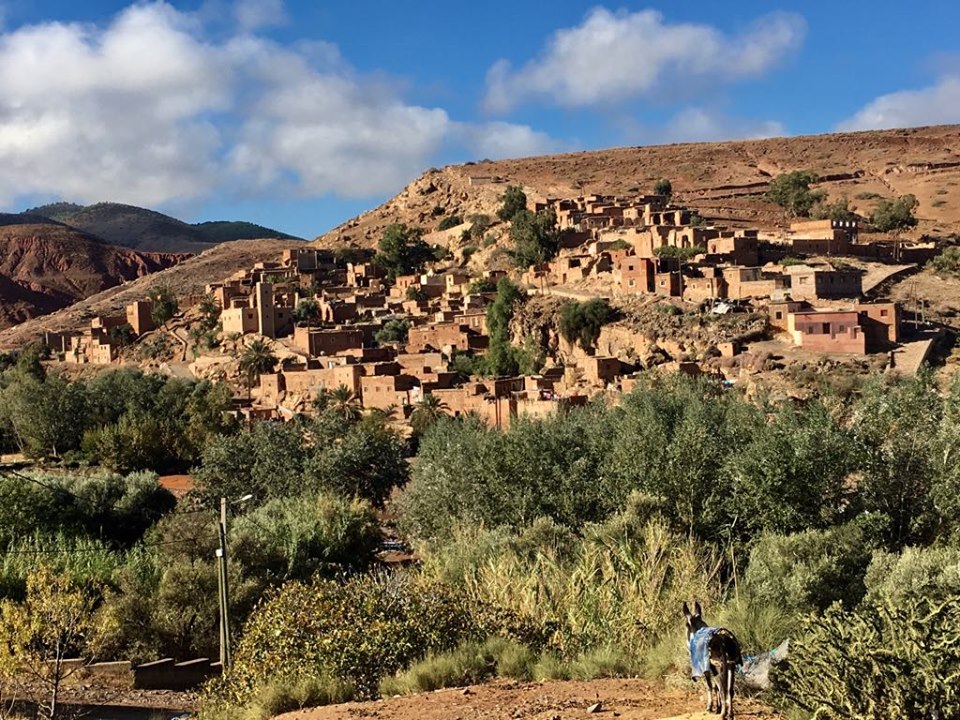 Was the adventure worth it? At this price, definitely. We made great discoveries there despite some less interesting aspects. On the other hand, we had the impression of living a standard tourist visit. It lacked that warm and authentic touch that we expected. In the future, we will probably avoid these kinds of activities offered by people who run a business behind.
Casablanca, Morocco, Cooking and enjoying a Moroccan meal
Host: Hanane   Price:  27$ per person   Lenght: 3 Hours                                                      Link: https://www.airbnb.fr/experiences/1034119
When visiting a new country, one of the easiest ways to find out is through its traditional food and markets. Airbnb also offers a whole range of cooking workshops and market visits accompanied by a resident through their experiences. Some are given in restaurants by recognized chefs and others, like the one we have chosen, are offered in the family home, by a mother or a grandmother who is committed to discovering her culture and her passion for the kitchen. We decided on Hanane, a woman in her thirties, mother of 3 boys, who shares two houses in the old medina of Casablanca with her family, that of her sister, her brother, her grandmother and her parents-in-law , in addition to renting a few rooms on Airbnb, Her husband is a jeweler and has a small business in the medina. Hanane's activity on Airbnb allows them to make ends meet and offer better education to their children, allowing them to attend private schools in the city (here, the public school is very bad). These few hours spent with her and some members of her family were really a crush on us. Thoughtful, full of kindness and generosity, she taught us how to cook a meal that took into account our desires. Besides, that's what's really good about this course. Hanane offers several dishes and we choose together, before our visit, those we want to learn to cook. In our case, it was a hot salad (Zaalouk), a vegetable tagine, Moroccan bread and mint tea. She first greeted us with a mint tea and cakes, then headed to the kitchen where we learned to make the chosen meal which we then tasted on the terrace. She took the opportunity to give us tips on how to prepare the olives found in the parks or how to prepare candied lemon, and to answer all our questions about traditional Moroccan food. Truly, an experience to live that we will hasten to repeat in a next country.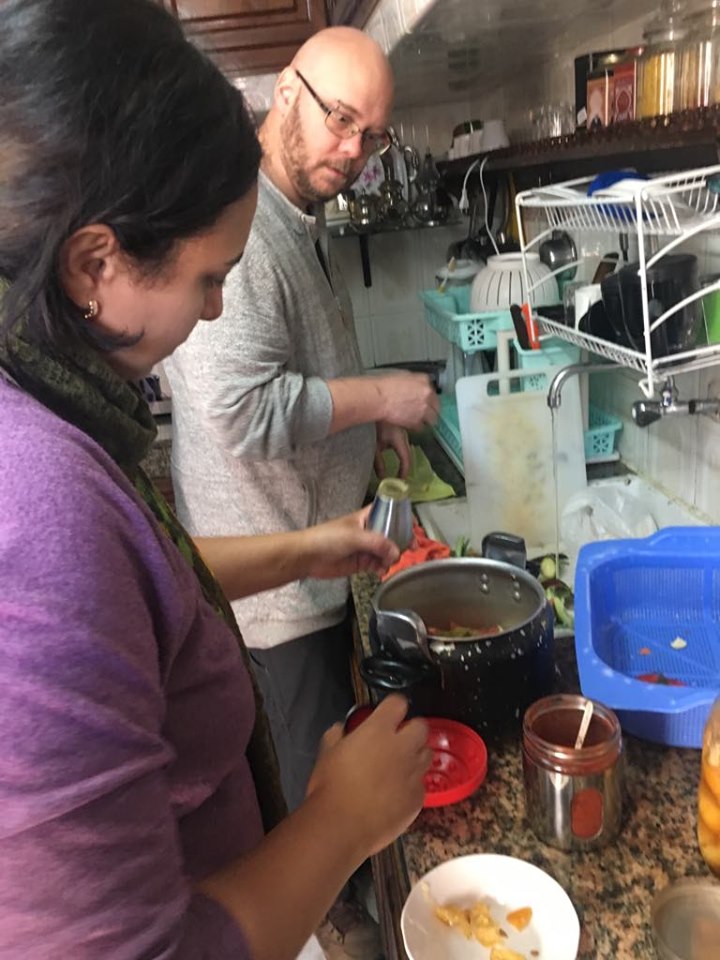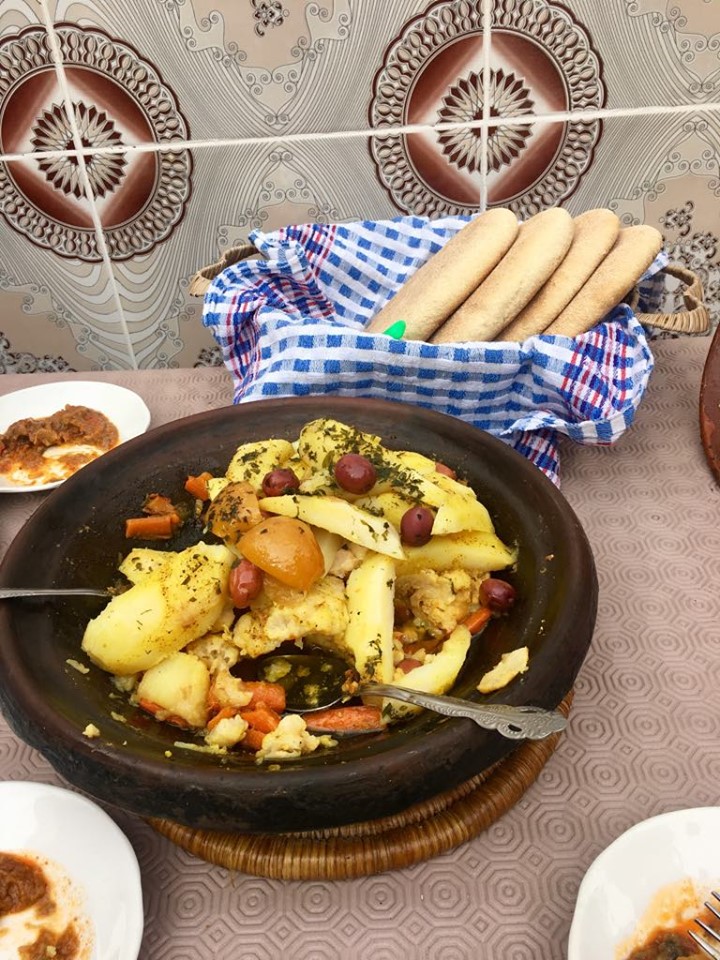 So are these experiences worth it? Absolutely. Not only do they give us the opportunity to do activities and discoveries that would be difficult to do otherwise, but they give us the opportunity to meet the inhabitants of the country we are visiting and to enter into their daily lives. And in some cases, like that of Hanane, this essential additional income allows us to be able to lend a helping hand in a positive way. And you, have you already participated in Airbnb experiences? Would you like to do it? Give us your opinion in comments!
Here's some extra
Nounoucorne's crazy adventure on instagram !
Autrement le voyage can be followed on instagram !
Apprendre autrement on facebook !
You can also email us at info@a-autrement.ca !