Good morning all,
Since we started talking about our project around us, a question keeps coming up: " Will you go to Finland? Because obviously, who can choose to address the issue of education around the world, without addressing the issue of Finnish education and its immense success, following the in-depth reform to which the country has process in recent decades. This small country, which until the late 1990s had not particularly stood out in comparisons, surprised more than one, including the Finnish population itself, when, in 2001, young Finnish people hoisted to the forefront of the PISA test (International Program on Monitoring of Acquisitions organized every 3 years by the OECD, the Organization for Economic Cooperation and Development). From 2010, their results on the PISA test were no longer as impressive, which led several experts to doubt the relevance of the exercise, but even more striking results remained.
Finnish education makes it possible to reduce the inequalities between pupils (the weakest versus the strongest) and between regions, to one of the lowest levels in the world. Over 93% of Finnish students successfully complete their secondary education and 66% of students start higher education, the highest rate in Europe. But what explains these incredible results? This is the first reason that motivates us to go to Finland in mid-October.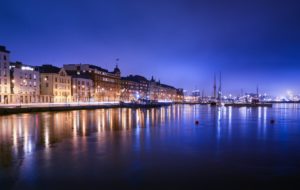 In Finland, children start school at 7 years old only (kindergarten is offered at 6 years old, but is not compulsory) and no registration is necessary. In fact, children are automatically enrolled in the public school in their neighbourhood, a way of doing things that could explain, in large part, the reduction in inequalities since social mix is ​​thus greatly increased. Education is completely free for everyone. Even books, school transportation and lunch are offered to all students. 30% of children receive help from one of the many specialized teachers, psychologists or social workers, available in the school system, to help them in their learning, making it one of the countries where early detection of learning difficulties is the best. And despite this, Finland would spend less per student than North Americans (statistics speak of 30% less than the United States).
Other loose facts:
Children have, at a minimum, 1 hour less class per day than children in Quebec, and in elementary school, they have 75 minutes of outdoor recreation per day.
No subject is considered more important than another. A great deal of space is also given to sports and the arts, as well as practical work in the educational program.
No note appears on the report card during the first 6 years of school. Rather, there are appreciations and advice.
Only one standard exam exists, and it is for 16-year-old students, so at the end of the basic program.
There is little or no homework to do at home.
Remake a grade exists on very, very rare occasions since studies on the subject have proven that this way of doing things does not improve student performance. Finland has chosen to follow these recommendations.
The programs are flexible and the teachers have total pedagogical autonomy, which allows several teachers to integrate methods drawn from several alternative pedagogies in their program.
The Finnish system has everything to make teachers, educators and parents of this world dream. And since, year after year, the success of Finnish education continues, why don't we apply it everywhere on the planet? Obviously, given the specificities of each country, making a copy and paste of the method would be unthinkable, but could we not be inspired by it very strongly?
This question leads me to the second part that we wish to cover: the training of teachers and their daily work. Because according to several international education experts, it is one of the main points that makes it difficult to apply this method elsewhere.
What is so special about these Finnish teachers? First, everyone, from preschool to college, has, at a minimum, a master's degree. During their training, fully paid for by the state, after a rigorous selection of the best (in 2010, there were 6,600 candidates for 660 positions), future teachers are expected to develop group communication skills and in networking and that they learn to learn. They are also trained in psychology, philosophy and sociology of education, action research, evaluation methods, information and communication technologies and finally in the didactics of their discipline. which represents less than half of the courses given. And throughout their career, they will continue their learning since 2 hours of continuous training per week are compulsory for all.
Once in office, teachers are involved in the construction of their teaching content which they design from locally defined content, which is articulated around the national programs defined by the Ministry of Education. The teachers freely organize their activities and choose the teaching and evaluation methods and the resources that suit them. They are strongly encouraged to collaborate with their colleagues. They also work closely with the management team, other teachers, psychologists and social workers to support the students individually. Since parents are also strongly involved in partnerships with educational establishments, teachers are required to discuss with them the content to be taught and the methods of assessment. They are seen as guides and chaperones by their students with whom they have lunch every day in an equal relationship. Each teacher is also required to be socially involved and to participate in the organization of numerous school events such as festivals, sports activities, discovery weekends, scientific projects, etc. Their work task is very heavy, but they receive a lot of recognition unlike our teachers. Their social status compares to that of doctors and lawyers. It will be extremely interesting to take a closer look at their training, the selection methods and the daily life of Finnish teachers.

If time permits, we would also like to look at two other aspects of Finnish education. If school starts at age 7, what is in place for children aged 0 to 6? And the second point, in a country where public school is considered the best in the world, is there room for private schools and alternative pedagogies? What can push a parent to choose something other than what is offered for their child? Would you be interested in these questions? We hesitate between spending 2 weeks or 1 month in Finland in order to deepen these subjects! Your comments will help us make our choice!
Have a good week!
Genevieve