Good Sunday to all!
Today, I want to talk to you about an idea that has been on our minds for some time, related to Apprendre autrement. In fact, I want you to give me your opinion to see if we really embark on this slightly crazy project! So I'm counting on you to let me know your opinion in the comments of this article or on Facebook. We will only start if there is really interest! So don't be dumb 🙂
Over the next two years, we will have the opportunity to visit a very large number of schools, daycares, families who teach at home, etc. all over the world. We will discover all kinds of ways to see the education of children from 0 to 12 years old, tons of inspiring projects and new ideas. Of course, we will share our discoveries with you through this blog, on our YouTube channel and our Facebook page, and with your children through Nounoucorne's articles on the world and Instagram publications. So we asked ourselves! And if there was a way to go even further and allow you to create real contacts, in the long term, with the people we will meet, to share directly with them, to exchange on your ideas, your life , your country, etc. wouldn't it be great? Well that's what we want to offer you!
This project is primarily aimed at primary teachers, early childhood educators and parents doing school at home, all pedagogies combined, as long as you work with children from 0 to 12 years old. We would like to suggest that you develop an online tool, free, but secure, available only to subscribers, which would allow you to correspond with one or more environments elsewhere in the world, which shares values and ideals that resemble yours and which work with children who are the same age as those you work with. Once the link is made, it will be up to you to develop your own project. Do you want to exchange ideas with the teacher? Develop common projects? Match the children in your classes? Discover the culture or the country of the other through various exchanges? The way you use this new link can go as far as your imagination allows!
So what we are offering you is a secret portal which can only be accessed with a password that we will provide you when you register, and where we will create a presentation of each of the interested circles. This sheet will include photos, a presentation of your environment, the languages ​​in which you can exchange, information on the type of projects you want to develop, the age of the children you work with, the pedagogy with which you work. , a link to contact you and any other information you consider relevant (Do you garden with children? Do you have an outdoor class? Do you have a specific annual theme, etc.). We will then group these files by keyword (language (s) spoken, country of origin, ages of the children, etc.) and you can easily search our database to find your match (s) ) perfect (s) and start matching your image which could be most enriching for you and the children with whom you work. The more we advance in our project, the more we will meet people and cross countries and the more this bank will grow. Please note, for practical questions, the sheets will be published in French and English only, the languages ​​that David and I speak. We will see later if it is worth finding volunteers interested in managing other languages ​​on the page.
To this site, we will join a part (public this one), where Nounoucorne, the mascot of our project, will share his photos taken around the world and his articles (in French) addressed to children, and which will aim to make them discover the world through his eyes. It could even, on occasion, highlight one of the projects that you have developed with your correspondents. Possibly, other tools could also emerge on this page!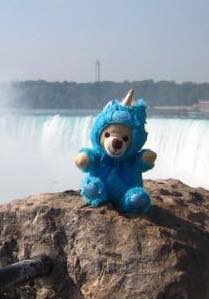 So go ahead now! As this project will take many hours of work, we want to be really sure that it interests you! Let us know your interest, ask us your questions and give us your suggestions! We look forward to reading from you! See you next week!
Genevieve